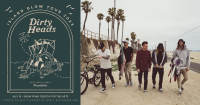 Dirty Heads ~ Island Glow Tour
Opening ~ Tropidelic
Time: 6:00pm Day: Wednesday Doors: 5:00pm Ages: All Ages Price: $50 - $200

Since 2001, Dirty Heads have mixed hip-hop, reggae, and rock to create a unique sound that both fully embodies their Southern California roots and resonates with audiences around the globe.
Dirty Heads are currently out streaming some of the biggest alternative acts in the U.S., with
over 1.29 MILLION digital track sales and 2.7 BILLION on-demand streams since 2018. Dirty Heads also have over 3.1 million unique monthly listeners on Spotify.
The band's global appeal reached new heights in 2021, when their hit "Vacation" (originally released in 2017) garnered over six billion views and streams across social media via the ubiquitous #VacationTransition challenge that originated organically with users on TikTok. The song, with an increase of 850% in consumption on Spotify in the past year, took on a new life in many ways, introducing Dirty Heads to new international fans by the millions.
The group formed when punk rocker Dustin Bushnell (aka Duddy B) asked his friend, rapper Jared Watson (aka Dirty J), to collaborate on a project that would focus on positive vibes and infectious grooves. Watson added singing to his vocal skills, and later with percussionist Jon Olazabal, drummer Matt Ochoa, and bassist Dave Foral, Dirty Heads began building an immense audience.
In 2008, Dirty Heads released their acclaimed album Any Port in a Storm, with a deluxe edition following in 2010. The deluxe version featured the track "Lay Me Down" with special guest Rome Ramirez of Sublime with Rome. The song reached number one on Billboard's Alternative Songs in May 2010, and nine weeks later it established a record as the song with the longest stint atop the chart for an independently released title.
They followed up two years later with Cabin by the Sea and later recorded an acoustic version of the title track. This, in turn, led to an entire acoustic album in 2013 called Home: Phantoms of Summer. Dirty Heads' next album, Sound of Change, would prove to be a breakthrough for the now-veteran band, debuting at number eight on the Billboard Top 200 while topping the Independent and Alternative Albums charts upon its May 2014 release.
Building on their renewed success, Dirty Heads enlisted a bevy of industry hitmakers to work on their self-titled 2016 follow-up, which -- thanks to its mainstream appeal -- again charted high on the Billboard Top 200. The following year saw the band drop its sixth studio album, Swim Team, featuring the singles "Vacation," in its original form, and "Staloney."
Inspired by current events and the fan interpretations of their music in the #VacationTransition challenge, the band went into the studio to work on new music. In 2021 Dirty Heads released The Best Of Dirty Heads compilation, which included a new collaboration with Travis Barker and Aimee Interrupter of The Interrupters. Dirty Heads recently wrapped their "Let's Get It Kraken Tour" Summer tour with SOJA, with multiple sold-out dates. The band also released their highly anticipated 8th studio album Midnight Control in August 2022 which features 10 all-new songs including their take on Joe Walsh's 1978 hit "Life's Been Good." "Life's Been Good" proved to be another quick hit as it remained #3 on BDS for multiple weeks in a row and has already amassed over 7.4 million global streams across all platforms. In addition, the entire Midnight Control album has over 29 million streams. (Statistics via U.S. and Global Music Connect). Fans can expect the deluxe version of Midnight Control in 2023.
---
"Every single second is a blessing if you count them all," sings frontman Matthew Roads. You can hear the sincerity in his voice; the joie de vivre that oozes from everything Tropidelic does is apparent. When they take a stage, their synergy flows member to member ­– horns blow, knees kicked high and grins are passed from one man to the next. Almost immediately, it spreads to the crowd, lifting hands in the air as their feet begin to move. The pulse collectively becomes that of one.
The six-piece band from Cleveland, Ohio may be far from any tropical islands, but that doesn't stop them from dishing out an interesting mix of reggae, hip-hop, and high energy funk for audiences across the country. Unapologetically original, Tropidelic has a deep and widespread appreciation for music that can be heard in each note. Some of the members are hip-hop heads, while others are into metal, funk or reggae. Each of these genres lends something to their collective sound. "We pride ourselves in being original in our musicality and personality as a band," says Roads, "but also in not taking ourselves so seriously that it ruins the fun."
Quickly elevating themselves in the live circuit, Tropidelic can be found spreading their soulful sound across the country in both intimate venues and music festivals, having shared the stage with and supported such acts as 311, Slightly Stoopid, The Dirty Heads, Pepper, The Flobots and Wookiefoot. Previously, Tropidelic has been featured at Electric Forest, California Roots Music & Art Festival, Reggae Rise Up, Warped Tour and 311 Caribbean Cruise, as well as the host of their own annual Freakstomp Music Festival.
Following on the success of their 2019 release, Here in the Heights, which debuted at #2 on the Billboard reggae charts, Tropidelic has released a series of impressive singles featuring guest appearances from Dirty Heads, Matisyahu, Devin the Dude and Shwayze. These singles have amassed over five million streams in 2020, and they are featured on their latest album, Of Illusion, which debuted on November 13th, 2020. Of Illusion was released on Billboard's number one reggae label, Ineffable Records. Tropidelic has put in their ten thousand hours, and they have arrived on the national scene to the delight of their ever growing and rapturous fans.