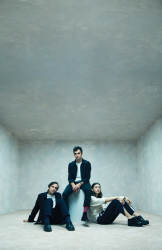 BAILEN
with Goodnight Blue Moon
& Rebecca McCartney
Time: 7:00pm Day: Saturday Doors: 5:30pm Ages: All Ages Price: $30

The concert will begin at 7:00pm. Doors open at 6:00pm.
Rebecca McCartney - 7:00pm
Goodnight Blue Moon - 7:45pm
BAILEN - 8:45pm
Featuring New England Music Camp Alumnus Daniel Bailen, BAILEN's otherworldly musicality springs from a very deep well, in fact, it's in their DNA. Raised in New York by their classically trained parents, Daniel, David and Julia immersed themselves in the family's diverse record collection. The group's highly collaborative songs are formed by three very different individuals who were all inspired by literature and a love of language. The resulting confident, meticulous songcraft of Thrilled To Be Here is rooted in the young group's preternatural dexterity, insight and lyrical bite.
Detail-oriented and precise, the members of BAILEN found the perfect counterpoint in producer Congleton's more open approach: "We think micro, and John was really good at thinking macro for the record," Julia observes. "First records are special because you've spent your whole life writing them. Recording our album in a month at the same studio with one producer meant that we kept the creativity, but also found the cohesiveness."
---
Blending rich vocal harmonies with lush orchestrations, Goodnight Blue Moon has created a sound that is steeped in tradition, yet entirely current.  GNBM is known for their energetic, honest, and dynamic live performances, offering a refreshing take on Americana roots music.
​
Awarded Best Roots Act in the 2016 New England Music Awards, and Best Folk/Traditional Act in the 2018 and 2013 Connecticut Music Awards, Goodnight Blue Moon has cemented their place as one of New England's premier groups. They have shared the stage with indie-folk heavyweights Hurray for the Riff Raff, Spirit Family Reunion, Wild Child, Joe Fletcher and the Wrong Reasons, and Mother Falcon among others, in addition to creating a diverse and devoted following of their own.  Goodnight Blue Moon has been regularly featured on WNPR's Where We Live and NEXT with John Dankosky.  Their festival credits include CT Folk Festival, LAUNCH Music Festival, MUSIKFEST, Podunk Bluegrass Festival, I AM Festival and Block Island Music Festival.  Goodnight Blue Moon's third studio album Dawning Dream was released April 2018. 
---
REBECCA MCCARTNEY WAS RAISED BY A FAMILY OF MUSICIANS AND NERDS, NOW WITH HER OWN SOUND AND MUCH TO SAY. GROWING UP IMMERSED IN NYC'S CLASSICAL MUSIC WORLD -- THANKS TO HER MOM'S CAREER AS A CLARINETIST -- SHE LEARNED THE JOY OF COLLABORATION AND THE ENERGY OF LIVE MUSIC.
WRITING SONGS THROUGHOUT HER CHILDHOOD CATAPULTED HER INTO THE CITY'S TEEN MUSIC SCENE AND EVENTUALLY LED TO THE RELEASE OF AN INDIE-FOLK RECORD UNDER THE DUO NAME GARDEN PARTY (2020) WITH HER CLOSE FRIEND, JAKOB LEVENTHAL.
NOW, AFTER A COLLEGE CAREER STUDYING JAZZ AND PLAYING IN AN R&B BAND, MCCARTNEY RETURNS TO NYC WITH A GENRE-PUSHING DEBUT EP, HOW YOU FEEL, SET FOR RELEASE IN LATE 2021. CALLING ON DIVERSE INFLUENCES OF D'ANGELO, NORAH JONES, JONI MITCHELL, AND LIANNE LA HAVAS, THE NEW EP GENERATES AN EDGY, ETHEREAL SOUND THAT CELEBRATES MCCARTNEY'S BUTTERY VOCALS AND ABSORBING LYRICAL INSIGHTS.